Wendy's Customers Raise $226,844
For Wednesday's Child!
The 2013 Wendy's one dollar coupon drive for Wednesday's Child was a huge success. For every dollar donated, the customer received a coupon book for Junior Frosties and Fries. The two month campaign is over and a check was presented Friday, May 3rd, to Marci and Jack Williams for the Endowment for Wednesday's Child. For decades, Wendy's has followed the initiative of founder Dave Thomas (a big supporter of Wednesday's Child) and has contributed millions of dollars for special needs adoption in New England.
Our thanks to the hard working managers of the 100 participating Wendy's for their hard work and dedication to children.

See more photos from the dinner here.

Ruthie Antonides Volunteer Award
This year's Ruthie Antonides Volunteer Award recipient is Bob Stone of New York, formerly of WBZ, who has travelled to Waterville to volunteer for the ski race for years. Shown with Marci and Jack at the Volunteer Appreciation Dinner in Waterville Valley March 9th, which would have been the date of the ski race.


However the work goes on and you can join with us to help special needs adoption. Click on this link to make a tax deductable contribution to Wednesday's Child, or send a check to Wednesday's Child, PO Box 136, Weston, MA 02134.
VOLVO continues to be a generous sponsor of Wednesday's Child and has helped us raise over $1,000,000.00.



Wednesday's Child
Success Story: Gary
Joseph and Jennifer first learned of Gary when they saw his Wednesday's Child segment on September 15, 2010. They legalized their adoption six months later at National Adoption Day. more




Many thanks to


Yankee Magazine

for another year of helping

Wednesday's Child!
12th IL CAPRICCIO DINNER A HUGE SUCCESS---AGAIN!
October 15th—Thank you to all who attended and enjoyed a great evening of food and drink at one of the top five restaurants in the Boston area. Chef/owner Rich Barron of Il Capriccio in Waltham again turned over his entire restaurant and supporters filled the seats and donated nearly $50,000. Three of our very special friends paid for the evening, so all the money raised goes to help special needs children find adoptive families. The three are Joe Dempsey, John Collins and John Madison. All three—along with their wives Mary Dempsey, Amy Collins and Diane Madison---are board members of the Jack and Marci Williams Endowment for Wednesday's Child. Other board members in attendance were Bill Zanke, Marci Williams and Jack Williams.
The annual dinner is named in honor of Ed Fish, who passed away a few years ago. He and his wife Gretchen donated over a hundred thousand dollars to help Wednesday's Child.

Photos from this year's dinner.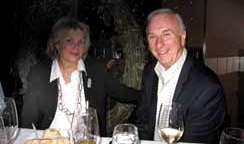 ANN FINUCANE; SPECIAL FRIEND OF WEDNESDAY'S CHILD
Over the years Ann Finucane has helped raise money for Wednesday's Child and special needs adoption. Ann, an official at Bank of America, had directed contributions from Bank of America as well as other sources to help provide care and eventually adoptive homes for these children. She has done so quietly, with dignity and compassion. She is shown in the picture with John Collins a member of the Wednesday's Child board and treasurer of the Jack and Marci Williams Endowment for Wednesday's Child.
The 30th Anniversary of Wednesday's Child Celebration at Jordan's Furniture in Reading with Jack & Marci Williams

- Slide Show